| | |
| --- | --- |
| | – Construction & Visualization |
Malz++Kassner CAD

6

studio is the professional 2D/3D CAD program of the CAD

6

series with all functions for planning, construction, and visualization. Apart from a 2D drawing area, the program provides 3D spaces to create and edit 3D components.

It contains SMART

2D

Technology plus many highly effective functions for the comfortable creation of drawing objects, working with curves and surfaces, as well as automatic trimming commands, equidistants, clippings, mappings, multiple lines, archiving of drawings, automatic saving, parts lists creation, etc.




Import/export filters for DXF, DWG, HP-GL/2, STL, U3D (export only), SVG (export only), SHP, WMF, EMF, and bitmaps (e.g. JPG and PNG) are also included.

In addition to comprehensive dimensioning commands (incremental and common datum) and trimming functions (such as rounding, chamfering, notching), the program features a construction aid as well as commands to create surfaces and contours which allow to create complex constructions in no time.




For illustrative applications there are commands for color gradients, textures, text alignment, color manipulation as well as special curve commands. In cooperation with CAD

6

PDF, you can create professional, high-resolution PDF files with CYMK colors, transparencies, and layer information that can be directly sent to online printing service providers.




It comes with a powerful programming interface which allows to extend the program with custom plug-ins.

This CAD

6

interface is fully documented (description of the programming interface, the file format of drawings and libraries, sample plug-ins) and may be used royalty-free.

All programs of the CAD

6

series are 100% data-compatible.

Use your own plug-ins: By means of the pro­gram­ming interface, you can easily create custom plug-ins that open brand new possibilities. We can do this for you – just call us! For more information, please refer to Custom Solutions for You.
Why CAD

6

is better »
Buy »
Download »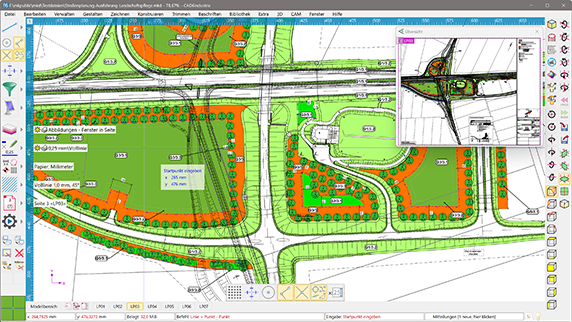 Additional Features
Many advanced functions in CAD

6

studio are realised by means of plug-ins:


Text on Path

Align texts to any type of contour, e.g. along a circle or curved line. The text remains editable!
3D

Create and modify 3D components in 3D space based on 2D objects, using numerous projection types and lighting effects; resolve 3D objects back into 2D objects; convert objects drawn in planar or perspective view into another perspective view; import and export standard STL files; export U3D files.
Lettering

Create lettering elements in technical drawings, such as tolerances, surface finish, center holes, etc. All texts remain editable!
Incremental & Reference Dimensions

Create incremental and reference dimensions in a single process without any unnecessary input.
Draw

Commands to create precise arrows, oval shapes, freehand lines, and complex Bézier curves. Especially useful to manually vectorize scanned templates.
Edit Geometry Data

View and edit the geometry data of single objects in a dialog window, alter the radius of an existing circle or the starting angle of an arc numerically.
Color Handling

Modify object colors – tinting, lightening, darkening, converting to grayscale, and numerical color editing.
Automatic Archive

Archive a complete directory with all contained sub-directories and drawing files, with all external references being converted into internal ones.
Parametric Compounds

Create complex parts that can be modified subsequently using numeric parameters. Use global variables and attributes in blocks and groups as parameters for these types of parts to adapt multiple parts or whole drawings with a single click.
Texture / Color Gradient

Fill objects and surfaces of all kinds with multi-color color gradients and patterns (textures). All parameters and colors remain editable!
Function Plotter

Generate mathematical function plots and multivariable function plots as marks, polylines or spline curves, plus customizable X-/Y-axes and coordinate system.
Zoom Views

Store and manage multiple drawing-dependent zoom areas in a separate window.
Auto Converter

Automatically convert directory structures with all manageable file types. Convert directory structures to libraries and vice versa (requires the respective filters). Create index files (e.g. for SAP®).
Table

Creation and editing of both simple and complex tables, also directly linked to databases.
DWG Import and Export

Import of DWG drawing files of all versions. Various settings such as object and text scaling, hand­ling of duplicate layers and line patterns. Export of all or selected objects into DWG drawing files, optionally scaled.
DXF Import and Export

Import of DXF drawing files of all versions. Various settings such as object and text scaling, handling of duplicate layers and line patterns. Export of all or selected objects into DXF drawing files, optionally scaled.
HP-GL/2 Import and Export

Import supports all standard objects plus Bézier curves, filled areas and texts, explicit colors and up to 10 decimal places. Export with a maximum of flexibility. Specify export options for pen or cutting plotters, laser plotters, or inkjet plotters. The export filter fully exploits the capabilities of HP-GL/2: Unlimited colors, precise output of line width and pattern, Bézier curves, filled areas, up to 10 decimal places. Fully configurable.
SVG Export

Exports drawing parts to SVG format (optionally compressed), an XML-based vector graphic format. This format can be displayed directly in internet browsers, enabling you to create prefect presenta­tions and product catalogs in the internet.

Details »
SHP Import and Export

Import and Export of ESRI® Shapefiles with points, lines, and areas (SHP file). The attributes are imported from the corresponding dBASE® file (DBF) and can be managed using CAD

6

's database commands.